Industrialized Construction
Maximizing Efficiency
---
Industrialized construction presents an opportunity to improve project schedules and decrease project costs using techniques like prefabrication, panelization, and multi-trade assemblies. Safety, quality, and efficiencies improve when work is done ahead of time in a controlled environment. Additionally, reducing time and leveling resources on-site yields safer, cleaner, and more efficient projects.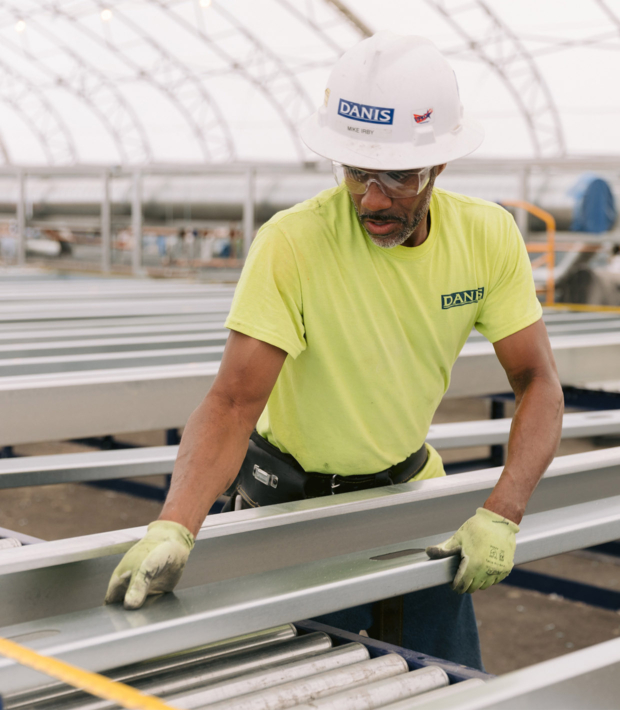 Onsite Industrialized Construction Center
Danis' Onsite Industrialized Construction Center (ICC) enables skilled trade resource leveling, providing incredible value to our clients with less material waste and improved labor utilization in a skilled labor shortage market. There are numerous benefits to the Onsite ICC rather than off-site industrialized construction. Shipping issues such as size constraints, trucking shortages and delays, extra costs and wasted time are all eliminated. Craftsmen and management are kept onsite, in one place, increasing efficiency in communication and action. Building inspections are streamlined, management resources are leveled, and the process is more sustainable.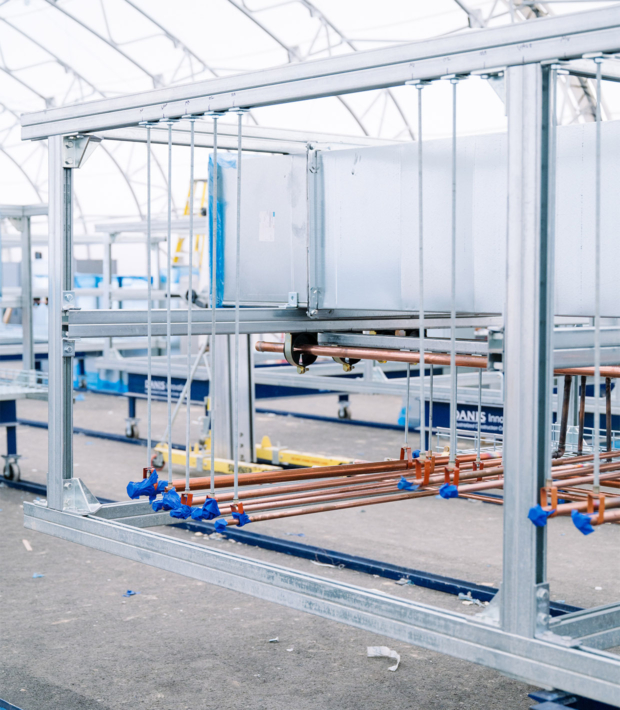 Multi-Trade Assemblies
With Danis' Industrialized Construction approach, we take what is normally performed in traditional single-trade prefabrication and transform it into an industrialized manufacturing approach. By industrializing the process, we look for repeatable, complex multiple-trade assemblies that can be manufactured in our ICC facility. Some of these assemblies include mechanical, electrical, and plumbing (MEP) corridor racks and vertical shafts, medical headwalls, and interior walls. This process reduces and significantly levels out the amount of skilled tradespeople required on-site.
Off-site Industrialized Construction Center
Danis' off-site ICC provides over 35,000 SF of ergonomic and climate-controlled space, enhancing safety and efficiency for our skilled tradespeople. The ICC facility provides value to our clients by reducing schedules, eliminating waste, improving quality, and cutting costs. While the foundation and superstructure work activities are taking place on the project site, simultaneously exterior wall assemblies, mechanical, electrical, plumbing (MEP) infrastructure work, and interior wall assemblies are all underway in the ICC facility. These assemblies are then delivered to the project site for immediate installation once the superstructure is then ready for them.
Planners.
Innovators.
Builders.
Looking for a challenge? Join our team. Danis is committed to hiring the best and brightest within our industry.